Visualization Conversations
Since Fall 2020, BioMolViz has been hosting a series of informal online conversations monthly to keep our community connected online.
Our final Fall Conversation is Friday, October 19th, 2021. Kimberly Cortes, Ph.D. will lead a conversation on what biometrics, such as eye tracking and EEG, can help tell us about what students are taking away from our visualizations. This will be followed by a conversation led by Cassidy Terrell, Ph.D., who will lead a conversation focused on the development of a new tool for assessing expert and student neural networks of biomolecular representations. 
Join us on Zoom ~ View Event Flier
View the Visualization Conversation archive here.
BioMolViz Workshops
Software Training (iCn3D, Jmol, PyMOL, UCSF Chimera)
Save the date for Winter 2022 software training workshops (Online)
January 5th and January 10th (tentatively 11–4 PM EST)
Wanting to learn a new program for molecular modeling? BioMolViz will be offering online half-day software training workshops. Depending on interest, iCn3D, PyMOL, ChimeraX, and Jmol trainings will be scheduled. Come learn a new modeling program (or brush up on one you haven't used in awhile).
Assessment Writing
Summer 2022 Assessment-Writing Workshops are currently being planned. More details to come in early 2022 ~ Workshop information page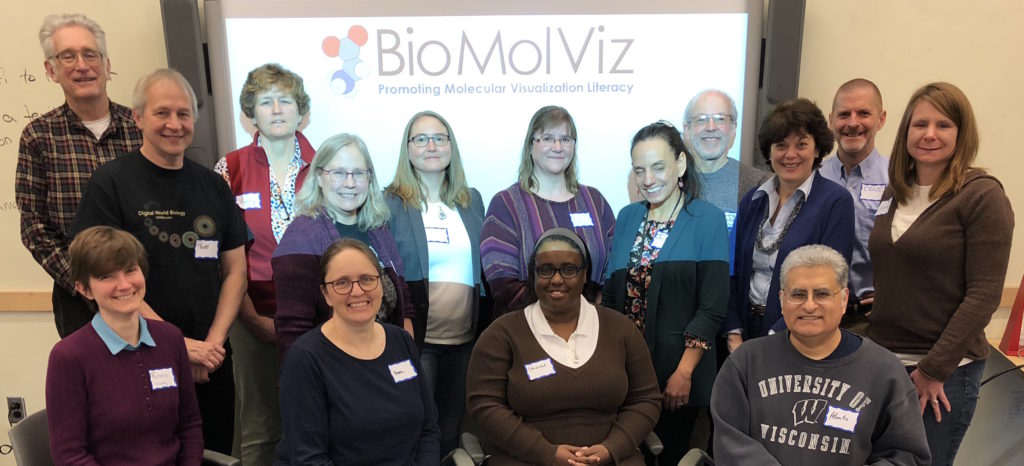 Past workshops
Winter Assessment Workshops – December 2020 & January 2021
Summer Assessment Collabs – May & June 2021
2019
Univ of Delaware; January
Univ of the Incarnate Word (ASBMB Education Symposium)

2018
Georgia Institute of Technology; January
Washington Univ in St. Louis; February
Morgan State Univ; March
Univ of San Diego; April

2017
Univ of Tampa (ASBMB Education Symposium)