Visualization Conversations
Since Fall 2020, BioMolViz has been hosting a series of informal online conversations monthly to keep our community connected online.
Our Fall 2021 kickoff conversation is Friday, October 15th, 2021. Brent R. Stockwell, Ph.D. will lead a conversation on the use of virtual reality for teaching biochemistry, and how meeting in VR with students can improve learning of 3D spatial biochemical concepts. This will be followed by a conversation led by Gaël McGill, Ph.D., discussing how dynamic visualizations (and novel tools that enable them) can help shape students' (and scientists'!) mental models of the molecular world.
Join us on Zoom ~ View Event Flier
View the Visualization Conversation archive here.
BioMolViz Workshops
Software Training (iCn3D, Jmol, PyMOL, UCSF Chimera)
Spring 2022 software training workshops (Online) ~ To prepare interested participants for our workshops, we've secured funding to provide training in the leading programs for biomolecular visualization. Details coming soon.
Assessment Writing
Summer 2022 Assessment-Writing Workshops (In-person) ~ Workshop information page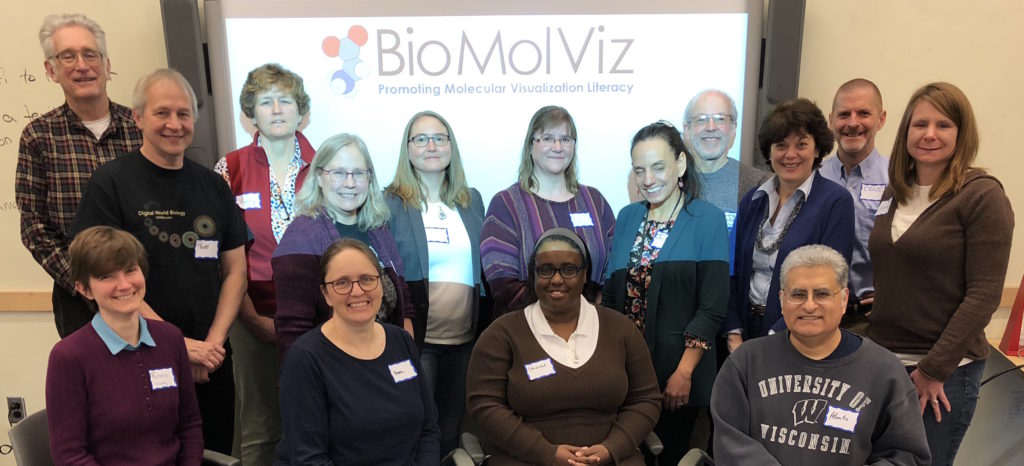 Past workshops
Winter Assessment Workshops – December 2020 & January 2021
Summer Assessment Collabs – May & June 2021
2019
Univ of Delaware; January
Univ of the Incarnate Word (ASBMB Education Symposium)

2018
Georgia Institute of Technology; January
Washington Univ in St. Louis; February
Morgan State Univ; March
Univ of San Diego; April

2017
Univ of Tampa (ASBMB Education Symposium)