Visualization Conversations
Since Fall 2020, BioMolViz has been hosting a series of informal online conversations monthly to keep our community connected. We will be continuing these conversations during Fall 2021. If you have a topic related to biomolecular visualization that you'd like to share in an informal 30 minute conversation format, please email us at info@biomolviz.org. More info and past speakers.
BioMolViz Workshops
Software Training (iCn3D, Jmol, PyMOL, UCSF Chimera)
Spring 2022 software training workshops (Online) ~ To prepare interested participants for our workshops, we've secured funding to provide training in the leading programs for biomolecular visualization. Details coming soon.
Assessment Writing
Summer 2022 Assessment-Writing Workshops (In-person) ~ Workshop information page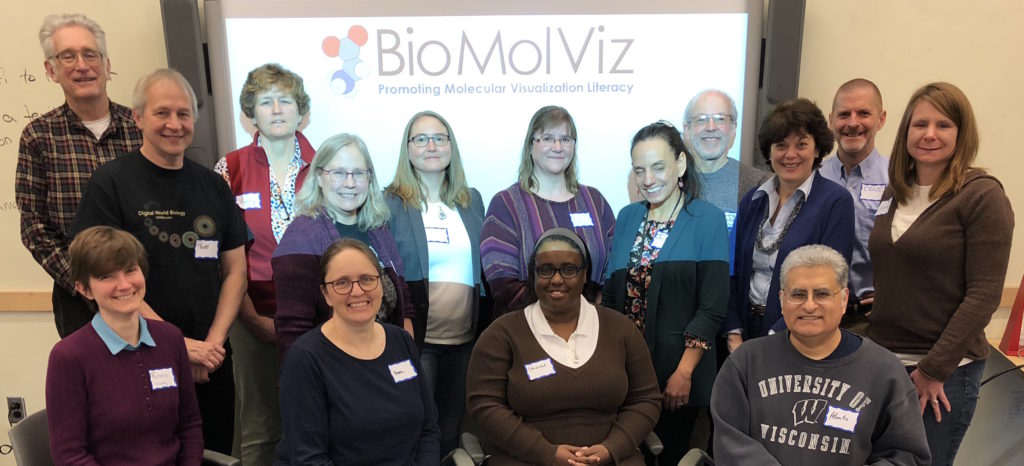 Past workshops
Winter Assessment Workshops – December 2020 & January 2021
Summer Assessment Collabs – May & June 2021
2019
Univ of Delaware; January
Univ of the Incarnate Word (ASBMB Education Symposium)

2018
Georgia Institute of Technology; January
Washington Univ in St. Louis; February
Morgan State Univ; March
Univ of San Diego; April

2017
Univ of Tampa (ASBMB Education Symposium)