Visualization Conversations
Since Fall 2020, BioMolViz has been hosting a series of informal online conversations monthly to keep our community connected online. We'll resume the conversations in Spring 2021. If you are interested in leading a conversation on a topic in biomolecular visualization education, please contact us.
View the Visualization Conversation archive here.
BioMolViz Workshops
Assessment Writing
• IN PERSON: Suffolk University, Boston, MA – June 9th (3 PM arrival) – June 12th checkout (no events on Sunday)
• ONLINE: June 21st, 23rd, 28th (11 AM – 4 PM ET, mid-workshop hourlong break)
Each assessment workshop will include a keynote speaker, networking events, and collaboration with a fantastic community of educators. Funding is available for participants to continue to help BioMolViz write, revise, and validate assessments online following the workshops.
Modeling Program Training (iCn3D, Jmol, PyMOL, UCSF Chimera)
An online modeling program training workshop will be offered in May. Priority for this workshop will be given to those participating in one of our assessment workshops.
May 23rd & 25th (11 AM – 4 PM ET)
Wanting to learn a new program for molecular modeling? BioMolViz will be offering online half-day software training workshops. iCn3D, PyMOL, and ChimeraX trainings will be offered. Come learn a new modeling program (or brush up on one you haven't used in awhile).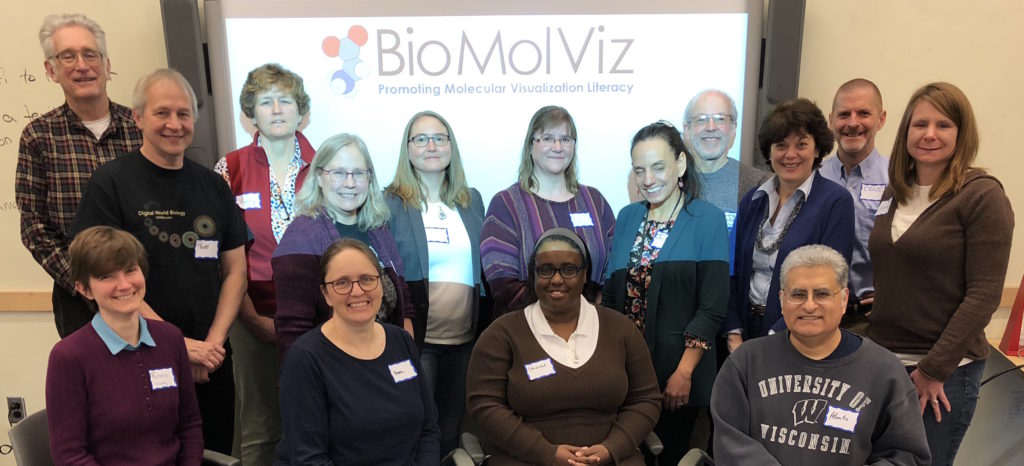 Past workshops
Winter Assessment Workshops – December 2020 & January 2021
Summer Assessment Collabs – May & June 2021
2019
Univ of Delaware; January
Univ of the Incarnate Word (ASBMB Education Symposium)

2018
Georgia Institute of Technology; January
Washington Univ in St. Louis; February
Morgan State Univ; March
Univ of San Diego; April

2017
Univ of Tampa (ASBMB Education Symposium)