The BioMolViz Library is a repository of assessments that probe students' visual literacy. Instructors may request an account using this form. Once approved, access the Library at library.biomolviz.org.
Use of the library is subject to our terms and conditions.
About the Library
Through workshops and remote working groups, the team has engaged nearly 200 instructors in our process of using the BioMolViz Framework for the backward design of assessment instruments. Our assessment validation process involves iterative peer review by faculty teams, an expert panel review, and field testing in classrooms.

Learner Levels
Assessments are categorized by learner level. Novice level assessments target students in introductory courses. Amateur level is intended for students in upper-division courses. Expert level assessments, once available, will target advanced learners.
Information about the assessment download process is included in the PDF below.
To reference the BioMolViz Library, please use this citation: Beckham, J., Acevedo, R., Dries, D.R., Engelman, S., Franzen, M.A., Jakubowski, H., Mertz, P., Novak, W.R., Roberts, R., Roca, A.I., Procko, K.* (2023) The BioMolViz Library: An Assessment Repository to Evaluate Biomolecular Visual Literacy Through the BioMolViz Framework. https://doi.org/10.15781/6mcy-8m69
A Guide to Assessment Phases
When viewing the abbreviated record for assessments in the BioMolViz library, you will see icons that indicate their status in our revision process broadly: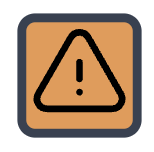 indicates that an assessment has been peer reviewed by faculty teams. The assessment is not fully validated and may be used at your discretion.

indicates the item has been reviewed by an external expert panel and has undergone further revision as recommended by the panel.

marks assessments that have been field tested by students in the classroom, evaluated for difficulty and discrimination parameters, and modified as needed based on classroom results.
When you open the full record view, a "status" item gives more detail about the validation phase. The document below describes the phases of our assessment process.
Library-Related Resources
[Video] browsing the BioMolViz Library (coming soon)
Some instructors may find it useful to provide students a guide to CPK coloring in order to use these assessments. A downloadable color key image is below:

Report an Issue
Notice a technical issue or any unusual behaviors when using the Library? Report the issue using this form.